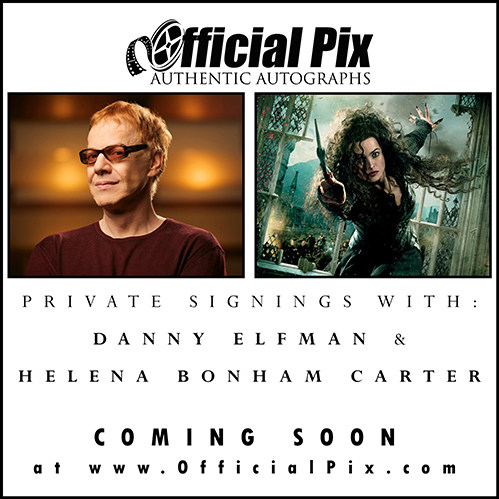 Danny Elfman & Helena Bonham Carter Signing For Official Pix!
COMING SOON!

We could not be more excited to announce that we'll be conducting private signings with legendary composer & musician Danny Elfman and the beautiful Helena Bonham Carter! There will be a massive Pre-Order & Send-In for both that will include Personalization & Character Name options.

Danny Elfman, who founded the band Oingo Boingo, has composed the soundtracks & theme songs to some of the most famous & popular films & TV series of our time including Beetlejuice, Batman, Batman Returns, Batman: The Animated Series, Dick Tracy, Edward Scissorhands, The Nightmare Before Christmas, Mission: Impossible, Mars Attacks!, Men in Black, Sleepy Hollow, Planet of the Apes, Spider-Man, Spider-Man 2, Charlie and the Chocolate Factory, Hulk, Corpse Bride, Terminator Salvation, Alice in Wonderland, Avengers: Age of Ultron, Justice League, Pee-wee's Big Adventure, Big Top Pee-wee, The Simpsons, Army of Darkness, Good Will Hunting & so many more! Seriously, go check out his IMDb page and look at the hundreds & hundreds of titles he's credited for and just imagine all of the things he could sign.

Helena Bonham Carter, best known for her roles in such films as Harry Potter and the Order of the Phoenix, Harry Potter and the Half-Blood Prince, Harry Potter and the Deathly Hallows: Part 1 & 2, Corpse Bride, Planet of the Apes, Hamlet, Merlin, Fight Club, Sweeney Todd: The Demon Barber of Fleet Street, The Dark Crystal: Age of Resistance, Ocean's Eight, Alice Through the Looking Glass, Cinderella, Les MisÚrables, The King's Speech, Terminator Salvation, Big Fish, Novocaine and dozens more!

Look for both Pre-Sales to launch soon at www.OfficialPix.com. Pricing info is not available at this time.